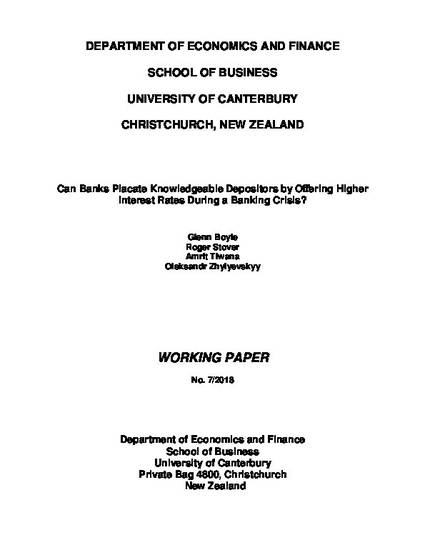 Article
Can Banks Placate Knowledgeable Depositors by Offering Higher Interest Rates During a Banking Crisis?
Economics Working Papers
Publication Date
4-20-2018
Abstract
Using a conjoint analysis of 417 finance professionals from six countries, we find no evidence that higher interest rates cause knowledgeable depositors to moderate their withdrawals during a banking crisis. In fact, intended withdrawals are positively correlated with expected interest rate changes. After accounting for endogeneity, this relationship disappears, consistent with the attractiveness of higher returns being offset by increased doubts about bank solvency. The withdrawal decisions of finance professionals are also independent of their personal characteristics, but they appear to place considerable store on deposit insurance generosity and the presence of a formal insurance fund.
Version History
Original Release Date: April 20, 2018
Departments
Department of Economics, Iowa State University
File Format
application/pdf
Citation Information
Glenn Boyle, Roger D. Stover, Amrit Tiwana and Oleksandr Zhylyevskyy. "Can Banks Placate Knowledgeable Depositors by Offering Higher Interest Rates During a Banking Crisis?" (2018)
Available at: http://0-works.bepress.com.library.simmons.edu/oleksandr-zhylyevskyy/16/