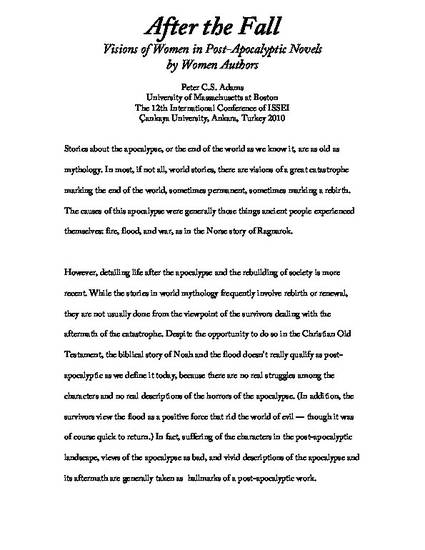 Presentation
After the Fall: Visions of Women in Post-Apocalyptic Novels by Women Authors
The 12th International Conference of ISSEI (2010)
Abstract
Stories about the apocalypse, or the end of the world as we know it, are as old as mythology. In most, if not all, world stories, there are visions of a great catastrophe marking the end of the world, sometimes permanent, sometimes marking a rebirth. However, detailing life after the apocalypse and the rebuilding of society is more recent. While the stories in world mythology frequently involve rebirth or renewal, they are not usually done from the viewpoint of the survivors dealing with the aftermath of the catastrophe. This article will discuss several such works by women authors.
Publication Date
Summer August, 2010
Citation Information
Peter C.S. Adams. "After the Fall: Visions of Women in Post-Apocalyptic Novels by Women Authors"
The 12th International Conference of ISSEI
(2010)
Available at: http://0-works.bepress.com.library.simmons.edu/peter_adams/3/