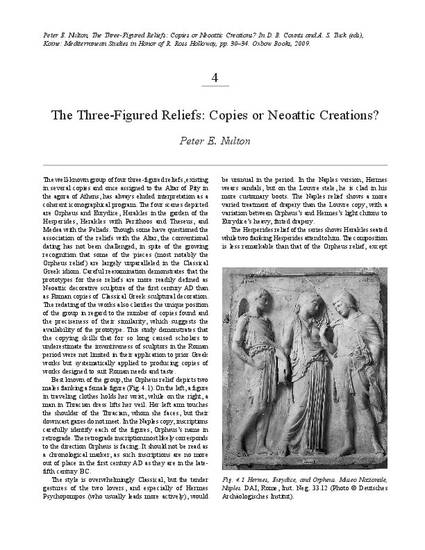 Contribution to Book
The Three-Figured Reliefs: Copies or Neoattic Creations?
KOINE: Mediterranean Studies in Honor of R. Ross Holloway (2009)
Abstract
The well-known group of four three-figured reliefs, existing in several copies and once assigned to the Altar of Pity in Athens, has always eluded interpretation as a coherent iconographical program. The four scenes depicted are Orpheus and Eurydice, Herakles in the garden of the Hesperides, Herakles with Perithoos and Theseus, and Medea with the Peliads. Though some have questioned the association of the reliefs with the Altar, the conventional dating has not been challenged, in spite of the growing recognition that some of the pieces (most notably the Orpheus relief) are largely unparalleled in the Classical Greek idiom. Careful reexamination demonstrates that the prototypes for these reliefs are more readily defined as Neoattic decorative sculpture of the first century AD than as Roman copies of Classical Greek sculptural decoration. The redating of the works also clarifies the unique position of the group in regard to the number of copies found and the preciseness of their similarity, which suggests the availability of the prototype. This study demonstrates that the copying skills that for so long caused scholars to underestimate the inventiveness of sculptors in the Roman period were not limited in their application to prior Greek works but systematically applied to producing copies of works designed to suit Roman needs and taste.
Editor
Derek B. Counts and Anthony S. Tuck
Citation Information
Peter E. Nulton. "The Three-Figured Reliefs: Copies or Neoattic Creations?" Oxford
KOINE: Mediterranean Studies in Honor of R. Ross Holloway
(2009)
Available at: http://0-works.bepress.com.library.simmons.edu/peter_nulton/6/