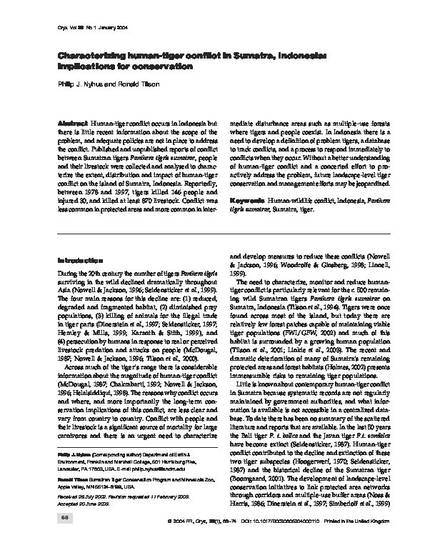 Article
Characterizing human-tiger conflict in Sumatra, Indonesia: implications for conservation
Oryx (2004)
Abstract
Human-tiger conflict occurs in Indonesia but there is little recent information about the scope of the problem, and adequate policies are not in place to address the conflict. Published and unpublished reports of conflict between Sumatran tigers Panthera tigris sumatrae, people and their livestock were collected and analysed to characterize the extent, distribution and impact of human-tiger actively conflict on the island of Sumatra, Indonesia. Reportedly, between 1978 and 1997, tigers killed 146 people and injured 30, and killed at least 870 livestock. Conflict was less common in protected areas and more common in inter- mediate disturbance areas such as multiple-use forests where tigers and people coexist. In Indonesia there is a need to develop a definition of problem tigers, a database to track conflicts, and a process to respond immediately to conflicts when they occur. Without a better understanding of human-tiger conflict and a concerted effort to proactively address the problem, future landscape-level tiger conservation and management efforts may be jeopardized.
Keywords
Human-wildlife conflict,
Indonesia,
Panthera tigris sumatrae,
Sumatra,
tiger
Publication Date
January, 2004
Citation Information
Philip J. Nyhus and Ronald Tilson. "Characterizing human-tiger conflict in Sumatra, Indonesia: implications for conservation"
Oryx
Vol. 38 (2004)
Available at: http://0-works.bepress.com.library.simmons.edu/philip_nyhus/7/