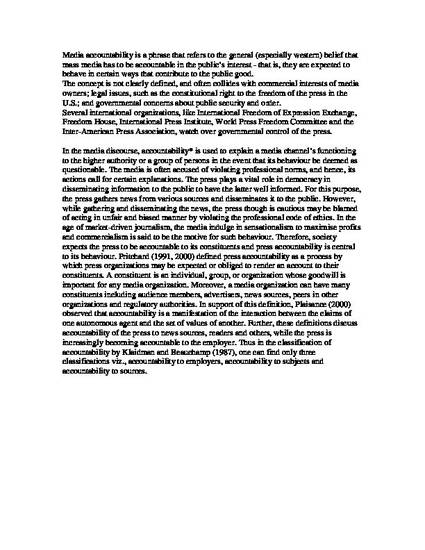 Article
Public Accountability and Media : Its Success and Failure in Performing The Role as a Force for Public Accountability
Soveniour of Press Council of India (2011)
Abstract
Media accountability is a phrase that refers to the general (especially western) belief that mass media has to be accountable in the public's interest - that is, they are expected to behave in certain ways that contribute to the public good. The concept is not clearly defined, and often collides with commercial interests of media owners; legal issues, such as the constitutional right to the freedom of the press in the U.S.; and governmental concerns about public security and order. Several international organizations, like International Freedom of Expression Exchange, Freedom House, International Press Institute, World Press Freedom Committee and the Inter-American Press Association, watch over governmental control of the press. In the media discourse, accountability* is used to explain a media channel's functioning to the higher authority or a group of persons in the event that its behaviour be deemed as questionable. The media is often accused of violating professional norms, and hence, its actions call for certain explanations. The press plays a vital role in democracy in disseminating information to the public to have the latter well informed. For this purpose, the press gathers news from various sources and disseminates it to the public. However, while gathering and disseminating the news, the press though is cautious may be blamed of acting in unfair and biased manner by violating the professional code of ethics. In the age of market-driven journalism, the media indulge in sensationalism to maximise profits and commercialism is said to be the motive for such behaviour. Therefore, society expects the press to be accountable to its constituents and press accountability is central to its behaviour. Pritchard (1991, 2000) defined press accountability as a process by which press organizations may be expected or obliged to render an account to their constituents. A constituent is an individual, group, or organization whose goodwill is important for any media organization. Moreover, a media organization can have many constituents including audience members, advertisers, news sources, peers in other organizations and regulatory authorities. In support of this definition, Plaisance (2000) observed that accountability is a manifestation of the interaction between the claims of one autonomous agent and the set of values of another. Further, these definitions discuss accountability of the press to news sources, readers and others, while the press is increasingly becoming accountable to the employer. Thus in the classification of accountability by Klaidman and Beauchamp (1987), one can find only three classifications viz., accountability to employers, accountability to subjects and accountability to sources.
Keywords
Public Accountability,
Media Accountability,
Press Freedom,
Citizen Media,
India
Publication Date
Winter November 16, 2011
Citation Information
Ratnesh Dwivedi. "Public Accountability and Media : Its Success and Failure in Performing The Role as a Force for Public Accountability"
Soveniour of Press Council of India
(2011)
Available at: http://0-works.bepress.com.library.simmons.edu/ratnesh_dwivedi/2/