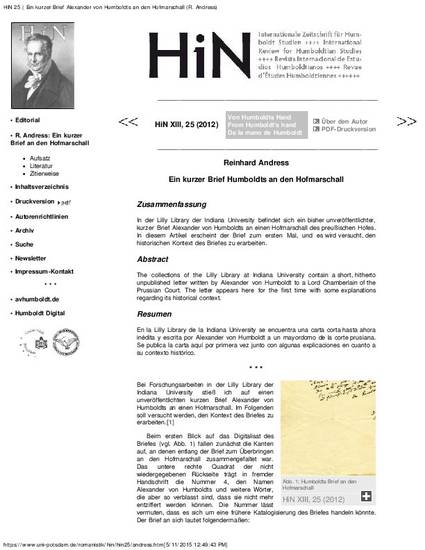 Article
Ein kurzer Brief Humboldts an den Hofmarschall
Humboldt im Netz
Publication Date
8-1-2012
Abstract
The collections of the Lilly Library at Indiana University contain a short, hitherto unpublished letter written by Alexander von Humboldt to a Lord Chamberlain of the Prussian Court. The letter appears here for the first time with some explanations regarding its historical context.
Creative Commons License
Creative Commons Attribution-Noncommercial-No Derivative Works 3.0
Copyright Statement
© University of Potsdam, 2012.
Citation Information
Andress, Reinhard (2012): Ein kurzer Brief Alexander von Humboldts an den Hofmarschall. In: HiN - Humboldt im Netz. Internationale Zeitschrift für Humboldt-Studien (Potsdam - Berlin) XIII, 25, S. 5-10. Online verfügbar unter