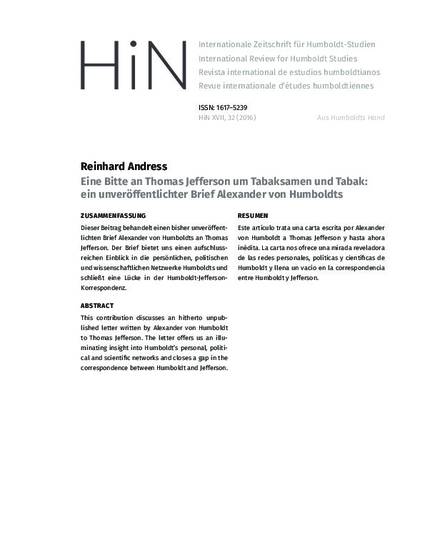 Article
Eine Bitte an Thomas Jefferson um Tabaksamen: ein unveröffentlichter Brief Alexander von Humboldts
International Review for Humboldt Studies
Publication Date
1-1-2016
Abstract
This contribution discusses an hitherto unpublished letter written by Alexander von Humboldt to Thomas Jefferson. The letter offers us an illuminating insight into Humboldt's personal, political and scientific networks and closes a gap in the correspondence between Humboldt and Jefferson.
Creative Commons License
Creative Commons Attribution-Noncommercial 4.0
Copyright Statement
© 2016 Reinhard Andress
Citation Information
Reinhard Andress. "Eine Bitte an Thomas Jefferson um Tabaksamen: ein unveröffentlichter Brief Alexander von Humboldts"
International Review for Humboldt Studies
Vol. 32 (2016)
Available at: http://0-works.bepress.com.library.simmons.edu/reinhard-andress/4/