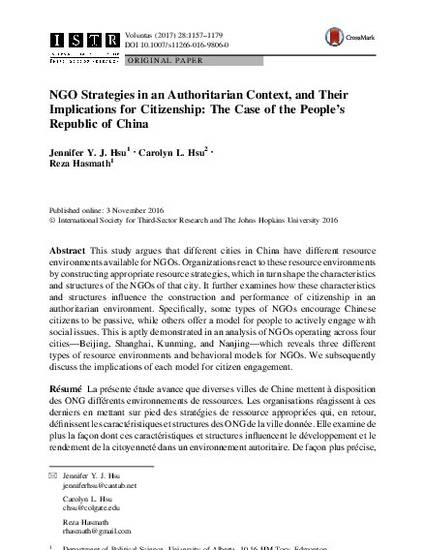 Article
NGO Strategies in an Authoritarian Context, and their Implications for Citizenship: The Case of the People's Republic of China
Voluntas: International Journal of Voluntary and Nonprofit Organizations (2017)
Abstract
This study argues that different cities in China have different resource environments available for NGOs. Organizations react to these resource environments by constructing appropriate resource strategies, which in turn shape the characteristics and structures of the NGOs of that city. It further examines how these characteristics and structures influence the construction and performance of citizenship in an authoritarian environment. Specifically, some types of NGOs encourage Chinese citizens to be passive, while others offer a model for people to actively engage with social issues. This is aptly demonstrated in an analysis of NGOs operating across four cities – Beijing, Shanghai, Kunming, and Nanjing – which reveals three different types of resource environments and behavioral models for NGOs. We subsequently discuss the implications of each model for citizen engagement.
Keywords
NGO,
volunteers,
citizenship,
authoritarian,
China
Citation Information
Hsu, J.Y., Hsu, C.L. and Hasmath, R. (2017) "NGO Strategies in an Authoritarian Context, and their Implications for Citizenship: The Case of the People's Republic of China",
Voluntas: International Journal of Voluntary and Nonprofit Organizations
28(3): 1157-1179.