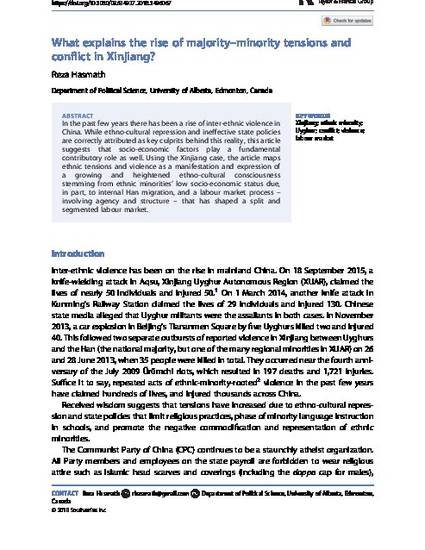 Article
What Explains the Rise of Majority-Minority Tensions and Conflict in Xinjiang?
Central Asian Survey (2019)
Abstract
In the past few years there has been a rise of inter-ethnic violence in China. While ethno-cultural repression and ineffective state policies are correctly attributed as key culprits behind this reality, this article suggests that socio-economic factors play a fundamental contributory role as well. Using the Xinjiang case, the article maps ethnic tensions and violence as a manifestation and expression of a growing and heighten ethno-cultural consciousness stemming from ethnic minorities' low socio-economic status due, in part, to internal Han migration, and a labour market process – involving agency and structure – that has shaped a split and segmented labour market.
Keywords
Ethnic Minorities,
Uyghurs,
Han,
migration,
labour market,
ethnic conflict,
Xinjiang,
China
Citation Information
Hasmath, R. (2019) "What Explains the Rise of Ethnic Minority Tensions in China?",
Central Asian Survey
38(1): 46-60.