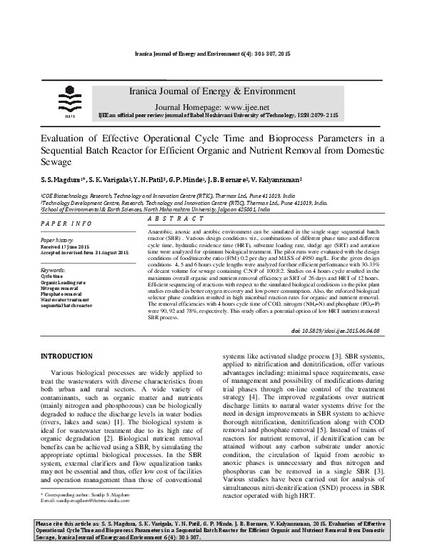 Article
Evaluation of Effective Operational Cycle Time and Bioprocess Parameters in a Sequential Batch Reactor for Efficient Organic and Nutrient Removal from Domestic Sewage
Iranica Journal of Energy and Environment (2015)
Abstract
Anaerobic, anoxic and aerobic environment can be simulated in the single stage sequential batch reactor (SBR) . Various design conditions viz., combinations of different phase time and different cycle time, hydraulic residence time (HRT), substrate loading rate, sludge age (SRT) and aeration time were analyzed for optimum biological treatment. The pilot runs were evaluated with the design conditions of food/microbe ratio (F/M) 0.2 per day and MLSS of 4950 mg/L. For the given design conditions 4, 5 and 6 hours cycle lengths were analyzed for their efficient performance with 30-33% of decant volume for sewage containing C:N:P of 100:8:2. Studies on 4 hours cycle resulted in the maximum overall organic and nutrient removal efficiency at SRT of 26 days and HRT of 12 hours. Efficient sequencing of reactions with respect to the simulated biological conditions in the pilot plant studies resulted in better oxygen recovery and low power consumption. Also, the enforced biological selector phase condition resulted in high microbial reaction rates for organic and nutrient removal. The removal efficiencies with 4 hours cycle time of COD, nitrogen (NH4–N) and phosphate (PO4–P) were 90, 92 and 78%, respectively. This study offers a potential option of low HRT nutrient removal SBR process.
Keywords
Cycle time,
Organic Loading rate,
Nitrogen removal,
Phosphate removal,
Wastewater treatment,
sequential batch reactor
Publication Date
Fall October 5, 2015
Citation Information
Sandip S. Magdum, Siva Kumar Varigala, Yogesh N. Patil, Gauri P. Minde, et al.. "Evaluation of Effective Operational Cycle Time and Bioprocess Parameters in a Sequential Batch Reactor for Efficient Organic and Nutrient Removal from Domestic Sewage"
Iranica Journal of Energy and Environment
Vol. 6 Iss. 4 (2015)
Available at: http://0-works.bepress.com.library.simmons.edu/sandip_magdum/12/