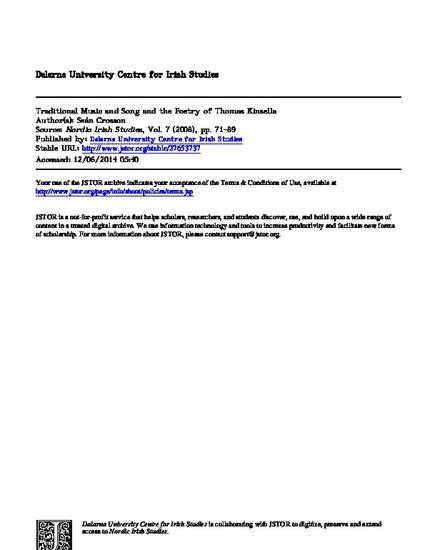 Article
Traditional Music and Song and the Poetry of Thomas Kinsella
Nordic Irish Studies (2008)
Abstract
Music and song are both important influences on, and themes in, the poetry of Thomas Kinsella. His poetry also features several individuals associated with music, none more frequently than his close friend, the composer Seán Ó Riada, a central figure in the revival in popularity of Irish traditional music since the 1950s. This paper charts some significant developments in Kinsella's work from the late 1950s, and indeed, intriguing parallels, and shared emphases, apparent in the comments and work of both Kinsella and Ó Riada. For Kinsella, his experience of traditional song - described in his poem 'The Shoals Returning' - preceded the incorporation of Gaelic literature into his poetry while his recurring emphasis on the audience's role in the act of communication echoes his own identification of a central characteristic of the performance of traditional song, or sean-nós, in Irish.
Keywords
Thomas Kinsella,
Irish Poetry,
Irish Literature,
Irish Traditional Music,
Performance,
Irish Studies
Citation Information
Seán Crosson. "Traditional Music and Song and the Poetry of Thomas Kinsella"
Nordic Irish Studies
Vol. 7 (2008)
Available at: http://0-works.bepress.com.library.simmons.edu/sean_crosson/16/