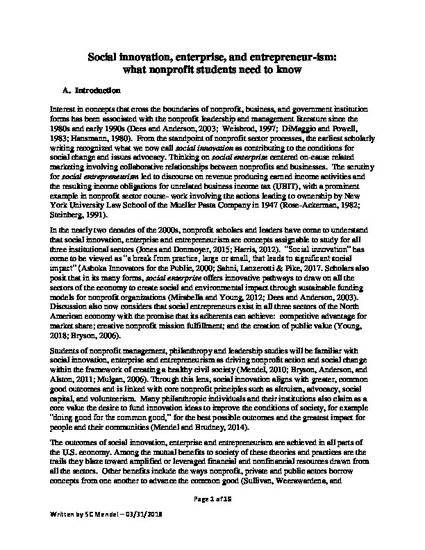 Contribution to Book
Social Enterprise
Chapter Proposal for "Teaching Nonprofit Management." (2019)
Abstract
Interest in concepts that cross the boundaries of nonprofit, business, and government institution forms has been associated with the nonprofit leadership and management literature since the 1980s and early 1990s.  From the standpoint of nonprofit sector processes, the earliest scholarly writing recognized what we now call
social innovation
as contributing to the conditions for social change and issues advocacy. Thinking on
social enterprise
centered on-cause related marketing involving collaborative relationships between nonprofits and businesses.  The scrutiny for
social entrepreneurism
led to discourse on revenue producing earned income activities and the resulting income obligations for unrelated business income tax (UBIT), with a prominent example in nonprofit sector course- work involving the actions leading to ownership by New York University Law School of the Mueller Pasta Company in 1947. Consequently, it is no coincidence that the Nonprofit Academic Centers Council Curricular Undergraduate Guidelines subsections 7.5 and 7.6 and the Graduate Guidelines subsections 12.7 and 12.8 include these topics as essential for students of nonprofit management and philanthropic studies.
Keywords
Social Innovation,
Social Enterprise,
Social Entrepreur,
Nonprofit
Publication Date
Fall 2019
Citation Information
Stuart C Mendel. "Social Enterprise"
Chapter Proposal for "Teaching Nonprofit Management."
(2019)
Available at: http://0-works.bepress.com.library.simmons.edu/stuart_mendel/57/