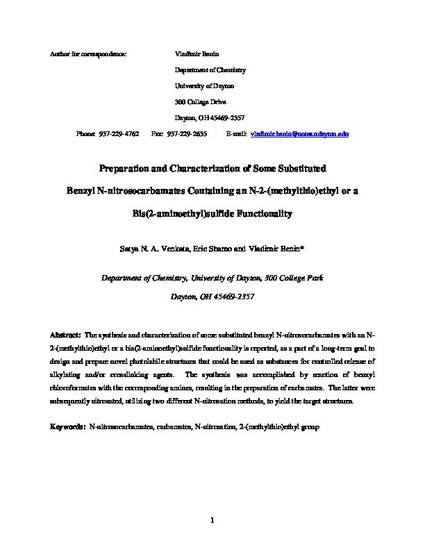 Article
Preparation and Characterization of Some Substituted Benzyl N-nitrosocarbamates Containing an N-2-(methylthio)ethyl or a Bis(2-aminoethyl)sulfide Functionality
Synthetic Communications
Publication Date
1-1-2009
Abstract
The synthesis and characterization of some substituted benzyl N-nitrosocarbamates with an N-2-(methylthio)ethyl or a bis(2-aminoethyl)sulfide functionality is reported, as a part of a long-term goal to design and prepare novel photolabile structures that could be used as substances for controlled release of alkylating and/or crosslinking agents. The synthesis was accomplished by reaction of benzyl chloroformates with the corresponding amines, resulting in the preparation of carbamates. The latter were subsequently nitrosated, utilizing two different N-nitrosation methods, to yield the target structures.
Inclusive pages
1406–1414
Document Version
Postprint
Copyright
Copyright © 2009, Taylor & Francis
Publisher
Taylor & Francis
Citation Information
Satya Venkata, Eric Shamo and Vladimir Benin. "Preparation and Characterization of Some Substituted Benzyl N-nitrosocarbamates Containing an N-2-(methylthio)ethyl or a Bis(2-aminoethyl)sulfide Functionality"
Synthetic Communications
Vol. 39 Iss. 8 (2009)
Available at: http://0-works.bepress.com.library.simmons.edu/vladimir_benin/15/