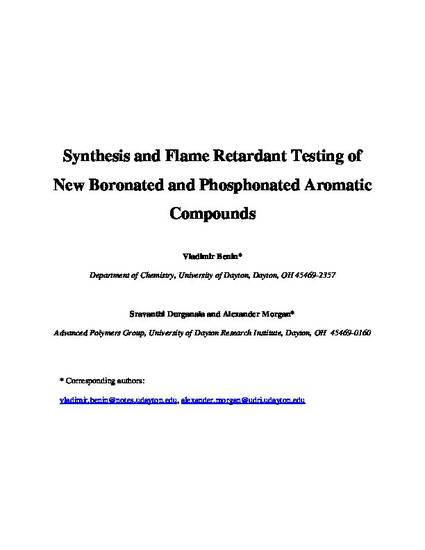 Article
Synthesis and Flame Retardant Testing of New Boronated and Phosphonated Aromatic Compounds
Journal of Materials Chemistry
Publication Date
1-1-2012
Abstract
The present report describes the preparation and use of some dimethyl terephthalate derivatives in transition metal-catalyzed coupling reactions to produce new reactive flame retardants. Dimethyl iodoterephthalate and dimethyl 2,5-diiodoterephthalate were successfully employed in the preparation of phosphonic and boronic esters and acids. The latter were tested for heat release with a microcombustion calorimeter (ASTM D7309) to determine the potential for heat release reduction of these flame retardant molecules. The results showed that the addition of boronic or phosphonic acids greatly lowered the heat release, due to a condensed phase (char formation) mechanism. Adding ester groups to the boronic acids or phosphonic acids could either completely remove all flame retardant effects or make the molecule act more like a vapor phase flame retardant. Finally, the various potential flame retardants were solventblended with a thermoplastic polyurethane to assess their flammability reduction effects by microcombustion calorimetry. The results of these experiments found that the molecules that reduced heat release the most by themselves showed the greatest reduction in heat release in a polyurethane as well, with the boronic acids yielding the greatest reduction in heat release.
Inclusive pages
1180-1190
Document Version
Postprint
Copyright
Copyright © 2012, Royal Society of Chemistry
Publisher
Royal Society of Chemistry
Citation Information
Vladimir Benin, Sravanthi Durganala and Alexander Morgan. "Synthesis and Flame Retardant Testing of New Boronated and Phosphonated Aromatic Compounds"
Journal of Materials Chemistry
Vol. 22 Iss. 3 (2012)
Available at: http://0-works.bepress.com.library.simmons.edu/vladimir_benin/7/