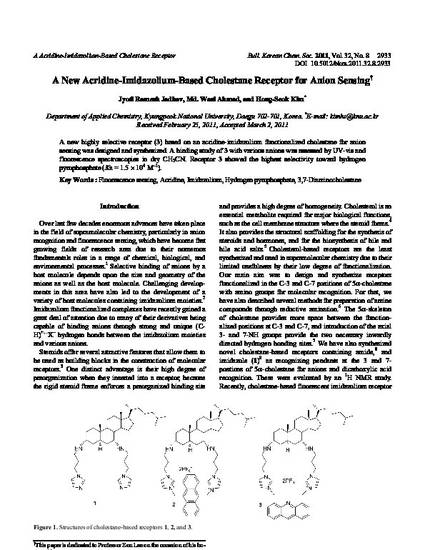 Article
A New Acridine-Imidazolium-Based Cholestane Receptor for Anion Sensing
Bulletin of the Korean Chemical Society (2011)
Abstract
A new highly selective receptor (3) based on an acridine-imidazolium functionalized cholestane for anion sensing was designed and synthesized. A binding study of 3 with various anions was assessed by UV-vis and fluorescence spectroscopies in dry CH3CN. Receptor 3 showed the highest selectivity toward hydrogen pyrophosphate.
Keywords
Fluorescence sensing,
Acridine,
Imidazolium,
Hydrogen pyrophosphate,
3,
7-Diaminocholestane
Citation Information
Jyoti Ramesh Jadhav, Md Wasi Ahmad and Hong Seok Kim. "A New Acridine-Imidazolium-Based Cholestane Receptor for Anion Sensing"
Bulletin of the Korean Chemical Society
Vol. 32 (2011)
Available at: http://0-works.bepress.com.library.simmons.edu/wasiahmad/3/