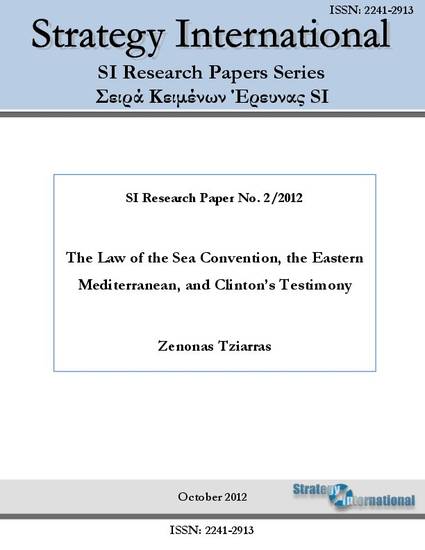 Article
The Law of the Sea Convention, the Eastern Mediterranean, and Clinton's Testimony
SI Research Papers, No. 2/2012, Strategy International (2012)
Abstract
Since the U.S. is still the world's sole superpower, its participation in international conventions is very important for both itself and the better function and implementation of the various International Legal Frameworks. As such, a possible future ratification of the [Law of the Sea] Convention by the U.S. would have broad politico-legal implications for other states and areas in the world, where the Treaty has not been signed or ratified and maritime disputes are in place. One such region is the Eastern Mediterranean. This paper firstly looks at the development of the Law of the Sea, the contested provisions of UNCLOS III in the Eastern Mediterranean disputes, and then focuses specifically on Greece, Turkey, Cyprus, and Israel, with regard not only to traditional maritime territorial disputes but also recent developments in the bilateral relations of these countries and in the region, more generally. The analysis concludes with the obstacles that the American politics poses to the ratification of UNICLOS III by the US.
Keywords
Law of the Sea,
Eastern Mediterranean,
Clinton,
United States,
EEZ,
Cyprus,
Israel,
Lebanon,
Turkey,
Greece,
Egypt
Publication Date
Fall October, 2012
Citation Information
Zenonas Tziarras. "The Law of the Sea Convention, the Eastern Mediterranean, and Clinton's Testimony"
SI Research Papers, No. 2/2012, Strategy International
(2012)
Available at: http://0-works.bepress.com.library.simmons.edu/zenonas_tziarras/26/